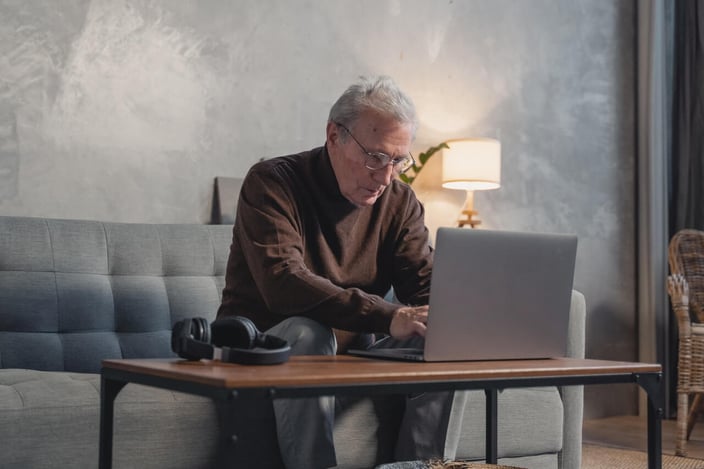 We've all heard the expression, "You can't teach an old dog new tricks," but this couldn't be further from the truth. You're never too old to learn something new, and being lifelong learners can actually help us enhance our overall cognitive health as we age.
There are things you can start doing right away to stay sharp that aren't expensive and are easily accessible. Consider making a change to your life or monotonous routine by incorporating new activities into your schedule, such as developing a new hobby, enrolling in adult learning classes, or cultivating new relationships.
Develop a new hobby
The best way to strengthen your brain is to use it! Active skills like quilting or photography can lead to more efficient brain activity in older adults, according to research done by Denise Park at the Center for Vital Longevity at the University of Texas at Dallas. This study also found no changes to brain activity associated with sustained social engagement or more passive tasks like completing crossword puzzles. With this in mind, choose something that will keep your mind and body actively engaged when searching for a new hobby.
Quilting, crocheting, or knitting are excellent choices, as these activities encourage concentration, dexterity, and coordination. If that isn't your style, you can also try learning how to paint or the art of photography. The important thing to remember is that the challenge of learning something new can improve your cognitive abilities, provide you with a sense of accomplishment, and give you a boost of self-confidence.
Go back to school
Perhaps you tried to pick up a hobby and decided you need something a bit more socially engaging. Most communities have inexpensive or free classes open to people above a certain age. Taking classes as an older adult is a fantastic way to increase social interaction and keep your mind sharp. Contact local community colleges or libraries to see what is available in your area.
If sitting in a classroom setting isn't something you're looking for right now, you might like to grab a friend and take a cooking class instead! Learning how to cook uses several different senses, which all utilize different parts of the brain. You might also consider studying a foreign language, either at a local college or through an app that you can download to your phone. According to research published in the journal Neuropsychology, speaking a minimum of two languages improves cognitive reserves, which helps the brain resist degeneration. Simply put, cognitive reserve allows the brain to operate more efficiently, protecting it from the damage that often occurs with age.
Cultivate new relationships
Humans are made to be connected. We need meaningful relationships to help support us throughout our lives. Adults of any age can benefit from social interaction, but it is especially important for older adults, as social isolation can be detrimental to your health. Surrounding yourself with people who understand you and have similar interests as you can be uplifting and beneficial for your mental and physical health.
Making friends later in life is not only possible but necessary. It can sometimes be difficult to maintain a close group of friends in older adulthood, since interests change and people move onto different stages of life. Making a proactive choice to create and sustain meaningful relationships throughout your life is incredibly important for your health, both physically and mentally.
Move into an active adult community.
Having a sense of community is crucial for your health as you age. If the place you call home doesn't support an active and engaging social life, it may be time to consider moving into an active adult community that will.
Active adult communities provide the perfect space to meet new people or try new things. Neighborhoods like those in Epcon communities are created with social adults in mind, so there is an abundance of opportunities to participate in neighborhood-wide events. The community fitness center also provides you the opportunity to partake in exercise classes year round.
Another benefit of an active adult community is getting help with maintenance. This means that you don't need to worry about shoveling snow or mowing your lawn, which frees up time in your schedule to dedicate to your new hobby or continuing your education.
Every Epcon home is personalized to fit your lifestyle and preferences. Choose one of our single-level floor plans to start, and our team of home building professionals can help create the perfect home. Subscribe to our blog to learn more about living in an active adult community like ours.