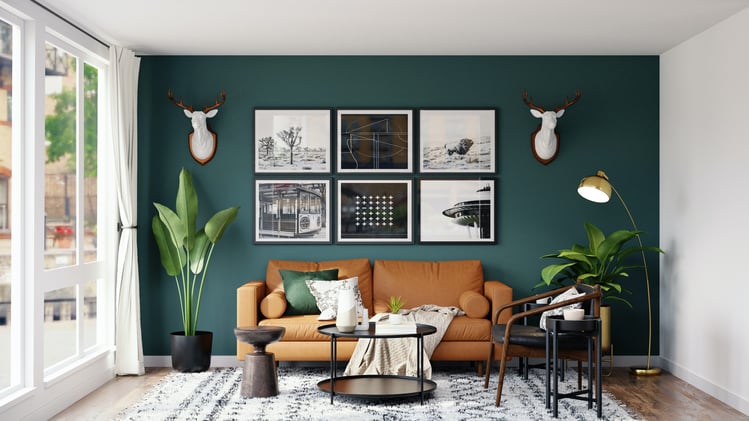 It's finally time to design your home the way you've always wanted. As an area for social gathering, your living room can showcase your sense of style. Whether you are building or buying your new home, knowing your favorite interior design style can make the process of choosing décor for each room easier. Here are five common design styles and ideas for incorporating each into your new living room.
Modern
The modern interior design style celebrates natural materials and neutral colors. Think simple, minimalistic, and clean lines. This doesn't mean that a modern living room is cold, though! You can create a cozy and comforting living room in a modern design style by choosing warmer colors to incorporate in the functional design.
For example, you can purchase a comfy sectional in a neutral gray, then incorporate pops of your favorite color in the throw pillows or rug. Consider getting a coffee table in a warm wood accented with steel hardware, or go for a glass tabletop with chrome legs. Choose minimal and simple decor that helps bring the room together: a piece of art rather than a television as the focal point, a plant in a white vase on the coffee table, and a small bookcase are good options. Remember that modern design is all about purpose. The furnishings and decorations in your living room should serve a practical purpose as well as contribute to the room's overall look.
Traditional
The traditional interior design style is elegant but comfortable, giving a living room a timeless and sophisticated look. One way to design a traditional living room is to find a few heavy, antique furniture pieces to build the design around. This could be your coffee and end tables, a wingback chair, or the sofa. Just be sure the furnishings match and center around a focal point, like a fireplace, your favorite painting, or your television. Then, fill the room with rich colors like red, brown, green, and dark wood. Include crown molding to really bring the room together.
To really go for a traditional living room, place antique candle holders and vases throughout the space. Hang heavy curtains, valances, and other drapery on the windows, and consider bold patterns like paisley or damask in silk or leather for any upholstery. Or, for a slightly more modern version, you can use stripes or florals as your pattern instead.
French Country
You can create a beautiful, rustic living room with the French country interior design style. A French country living room is bright, airy, and rustic with just a touch of drama. This is a timeless, simple style that incorporates distressed finishes not found in modern or traditional spaces.
To design a French country living room, purchase furniture in white or other neutral colors, then incorporate pastels as pops of color by adding fresh flowers, throw pillows, etc. Or, if you want to have some fun and modernize the style, you can get furniture in a fun print and keep the walls and floor neutral to create balance. Consider focusing the room on a beautifully distressed exposed brick fireplace to create a cozy feel, and install dark wooden ceiling beams or moldings. Then, for some added drama and history, find a pair of gilded French mirrors to either hang or lean against a wall. Of course, no French country space would be complete without French-style double doors! Install these so they open into an office, den, or into your sitting room.
Coastal
Escape to your happy place each night with the coastal interior design style. This design works best with an open floor plan. Spaces in this style are charming, laid back, and relaxing. You don't have to have a home near the coast to create the perfect breezy coastal living room.
Incorporate natural materials and fibers like cork or weathered wood. A beachy color palette is a must: blue, green, tan, pink, and yellow are perfect. When choosing your furniture, prioritize comfort over function; you want to be as relaxed as possible in this space.
Try designing your coastal living room with colored walls and lighter furniture for balance. For example, you could paint the walls a light blue and incorporate similar shades in a rug or throw pillows. Add light wooden coffee and end tables and a couple woven poufs for your feet. Place greenery around the room and you're almost finished! Add simple wall décor with a beach theme to pull the room together.
Shabby Chic
If you are full of personality, character, and color, your home can reflect that! The shabby chic interior design style is the perfect blend of order and chaos. This is the design style to choose for that lived-in and eclectic feel. The beautiful thing about this style is that it's completely imperfect. Your living room can be rustic and romantic, simple and ornate, clean and loud, all at the same time.
For example, go thrifting to find weathered or distressed light-colored furniture to use in the space (and no, they definitely do not have to match). Then, get a shag or patterned rug to put underneath a ruffled, floral-patterned armchair and couch. Shabby chic tends toward frilly details, but you can tone this down or ramp it up as you see fit.
Complete your living space with fun touches like a stack of trunks for your end table or a collection of personal pictures in different frames on the wall. Don't go overboard when choosing items for your shabby chic space. If you want to incorporate a pattern, choose just a couple pieces to showcase it, and keep your other furniture neutral.
Choosing every aspect of your new home can be overwhelming, even when you know exactly what you want! Get help from professionals like those in Epcon Communities. Our zero-entry floor plans can lend themselves to whatever interior design style you love. You can personalize your chosen floor plan to perfectly complement your dream living room.
As an active adult community, Epcon provides low-maintenance living that makes it easier for all our residents to prioritize what's important in their lives. If you want more time in your life for work, making new friends, spending time with loved ones, or hitting the town, an Epcon Community could be your ideal new home. Subscribe to our blog to learn more.