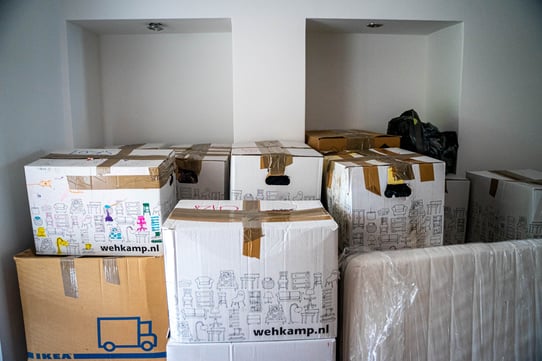 When you've lived in the same home for decades, your belongings tend to accumulate in any available storage space. This makes more to clean, more to maintain, and more to keep track of, such as decorations, bedding sets, kitchen items, and old toys. Getting rid of the clutter can help alleviate stress and give you more time for things you enjoy.
If you plan to downsize your home or simply want to embrace the art of "less is more," it can be hard to get started. After all, you've lived in your family home a long time and accumulated a lot of stuff to sort through. To help you stay motivated, keep in mind the benefits of decluttering your home, and have a plan of action to pare down.
Decluttering is good for your mental health.
Your household clutter can seem harmless, especially when it's out of sight. But if you feel stressed and are having trouble identifying why, your clutter could be to blame. Studies have shown that people with clean and organized houses are healthier, more active, and less prone to depression and fatigue than those with messy or cluttered home; and researchers at Princeton University found that it can be much more difficult to concentrate on a specific task if you're surrounded by visual clutter.
Psychology Today lists several benefits of decluttering, including enhanced confidence and energy from making quick decisions and solving problems. You can reduce your anxiety and get a psychological boost from actively making tangible improvements in your living environment.
Take it one step at a time.
Just like when you spring clean your home, it's more manageable—both physically and emotionally—to take this process one room at a time. Comb through each room from wall to wall and floor to ceiling. Invite your kids or friends over to help; you could make it into a party, complete with a pizza reward for their assistance!
As you go through each room of your house (yes, even that pesky junk drawer), start making piles, and clearly label them. For example, when you run across an item you can't bear to part with, like a treasured family heirloom, put that and similar items in the "keep" pile. For the items that are either broken, falling apart, or just plain gross after years of use, sort them into the garbage or recycling bin. If you find items you no longer want but are in good shape, make another pile and let your children, family, or friends sort through what they would like before you donate the rest.
Keep it up.
Once you've gone through your house from top to bottom and cleared out all that stuff, you'll want to maintain that organization so you won't have to do it all again in a few years. Simply putting things back where they belong immediately after using them can help keep your home tidy and your stress levels down.
If you find that you're still having trouble curbing your clutter, having fewer places to keep it could help. If your family home has a lot more space than you need, it could be time to consider moving into a smaller home with less space to fill. Transitioning to a smaller, single-level home can provide you plenty of space to live comfortably and host family and friends—but less to fill with clutter.
If you decide to downsize, consider the benefits of an active adult community. Unlike retirement communities, active adult communities are designed for people who live independently, may still work full or part-time, and want to remain active! This type of community allows you to build a beautiful personalized home with low-maintenance living. Yes, that means you won't have to mow or shovel that sidewalk ever again!
For more information on low-maintenance, low-stress communities for active adults, subscribe to our blog today.