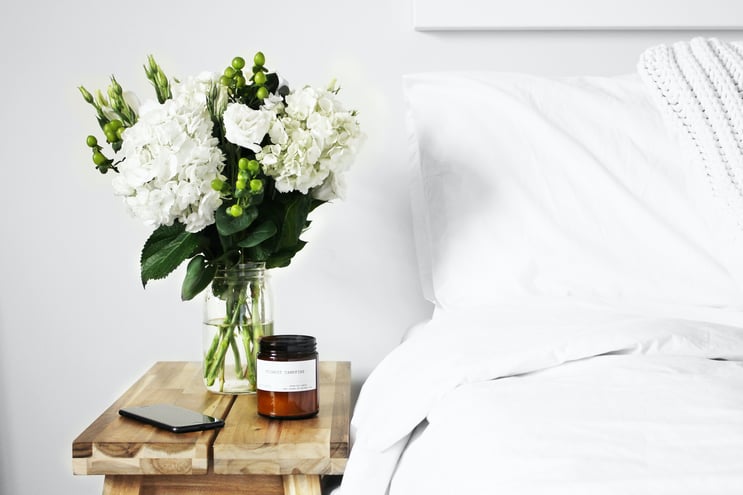 If you've ever designed a room, office, or custom home, you know the process can be as stressful as it is exciting. But, as we discuss in our first article in this series, Home Design: Bathroom, you can make it a lot easier by figuring out which interior design style you prefer and carrying that throughout each room in your house.
It's simple to extend your design preferences from your bathroom to your primary bedroom, once you know what you like. Here are four common interior design styles specifically applied to your bedroom, which is arguably the most important room in the house!
Modern
A modern design style is clean, simple, and prioritizes functionality. The style can also be referred to as "contemporary," but they aren't actually the same. Modern is a particular style, while contemporary refers to whatever is trendy at the time, so it changes all the time.
In a modern style, the most important aspect of the room is its use, and that it is open and airy. In a bedroom, that means your bed will most likely be the focus of the space. Aesthetics come second to functionality, but that doesn't mean the modern style is ugly. It just means that there aren't usually a lot of excess decorations or adornments around the room.
To create a modern bedroom in your dream home, first choose a neutral color scheme: beige, cream, tan, gray, white, or black usually dominates. Then, you can use a red, yellow, or blue rug and chair for pops of bright color. Incorporate natural materials like wood in your bedroom, as well. Do this with a wooden headboard or accent wall. Geometric patterns are huge in this style; you can choose paintings or other prints with this theme to display on the walls. If you want to add another special touch, choose a fun light fixture to add interest.
Traditional
Unlike its modern counterpart, the traditional interior design style is all about fine furniture, luxurious fabrics, and elegance. Contrary to what you may believe, your bedroom does not have to be full of antique furniture to fit into this style! Traditional design embraces a classic, even slightly formal look, but it is anything but stuffy.
Your traditional bedroom can consist of beautifully polished furniture; just don't buy a matched set. The furniture should look like it was collected. Deep toned wood sets the stage here, so look for dresser and bedside tables in cherry, walnut, or mahogany. Heirlooms are always welcome in a traditional bedroom, however, even if they don't fit the color scheme. For your headboard, consider something upholstered in velvet with nailhead trim, and get a four-poster bed frame that's wood, iron, or brass.
A sitting area is a must-have in a traditional bedroom. If your bedroom is small, this could simply be a cushy chaise or chair in the corner by a window. Today's traditional style is often lighter in color, so if you'd like your bedroom to feel more open and airy, choose a quilted bedspread in white, then use area rugs in a paisley or damask pattern for pops of light color. For finishing touches, place flower arrangements throughout the space, or even hang gold-framed mirrors!
French Country
Another common interior design style is French country. This style is casual and elegant, and it's typically grouped with a farmhouse style due to the distressed furniture that's usually included in the space.
In a French country bedroom, choose pale pastel colors and white. For example, your carpet could be cream while your curtains can show off floral or gingham patterns in pale yellow, green, or blue. Layered pillows are a staple of the French country style, so in this case, less is definitely not more! If you'd like your bedroom to have a more upscale feel, invest in an elaborate canopy to hang above your bed to add elegance to the space.
Then, to add the "distressed" feel to this style, get mismatched pieces of furniture like an antique chair, bench for the foot of the bed, or bedside table, that look like they've been passed down in your family for generations.
Shabby Chic
The beautiful thing about the eclectic shabby chic interior design style is that it's imperfect. That's what makes the style! Rustic yet romantic, the shabby chic style can be as simple or as ornate as you wish.
Most of the time, shabby chic bedrooms will feature repurposed furniture in a casual, even slightly feminine, style. Yes, we mean ruffles. You can, of course, tone down the décor as much or as little as you'd like, but for a true shabby chic look, opt for ruffled curtains and bedspread. As a color scheme, choose bright hues like pink or turquoise and balance them out with a clean white.
For a quirky but charming bedroom, use vintage suitcases instead of a traditional nightstand. Then, make sure your bed is the star of the show. Pile on throw pillows and a comfy and ruffled duvet or comforter, and patterned sheets—then try to wait until bedtime to climb in!
If you figure out your preferred interior design style but still have trouble translating it to your bedroom, consider moving into an active adult community like Epcon! Our homes are personalized and built from existing floor plans, which makes it much easier to bring your dream home to life in the style you choose. You can say goodbye to your stairs when you move, as each Epcon home is a zero-entry floor plan, making your home much safer to navigate.
In addition to providing a perfect place to call home, living in a community like Epcon also gives you benefits like low maintenance living and the chance to make new friends with neighbors who are in similar stages of life.
For more design tips, or to learn about how you can build your dream home in an Epcon community, subscribe to our blog today.