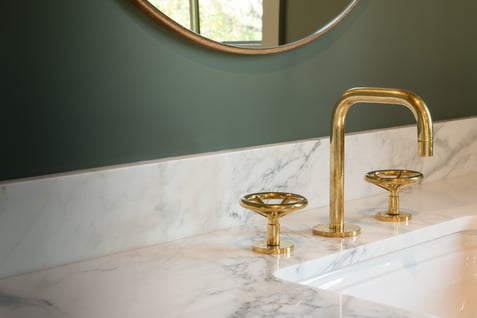 Building your dream home can be a stressful process, especially when you aren't sure how to put your design preferences into action. To make the whole process easier on yourself, you should first consider which common interior design style you lean toward the most.
Once you figure out the design style you think captures what "home" looks and feels like to you, you can apply that style to any room in your home! For now, let's focus on the master bathroom. Here are explanations of a few common interior design styles and how you can incorporate the look into your custom bathroom.
Modern
While a broad term, a modern home style typically has clean, crisp lines and incorporates neutral colors and materials like metal, glass, and steel. The big thing to remember about modern design is its sense of simplicity in every single element of a space, including furniture. Think "less is more."
There are a few easy ways you can incorporate a modern look into your bathroom space. Create an open floor plan with transparent glass walls around the shower. Then, choose a monochromatic color scheme (like black and white) with just a pop of color—maybe a few flowers for a decorative touch. Modern style also incorporates geometric shapes, so you might also get a bathmat or rug that features squares or diamonds.
Contrary to popular belief, a modern style doesn't have to be cold or sterile! Warm-up your bathroom with soft colors, or choose wood as a material rather than metal or steel. For example, a wooden bathroom cupboard could go a long way to making the bathroom feel cozier.
Traditional
One of the best-known styles in interior design is traditional. Dating back to 18th and 19th century England and France, traditional design style often uses more expensive fabrics like silk or velvet on anything from furniture upholstery to window treatments. A traditional-style home will most likely feature a lot of different patterns like florals, stripes, and plaids. When you're considering this style, think glam and ornate detail.
A traditional-style bathroom will feel like an at-home spa. When designing this type of space, it may be easiest to choose a time period that you like and then choose materials and decor from that period. This may be Victorian, colonial, or Georgian. All of these are timeless, clean, and classic.
Once you settle on a time period, jump into designing! Granite countertops, vintage flooring with hexagonal tiles, high-end wood cabinets, and metal accents (light fixtures, drawer hardware, etc.) are all common traditional design elements. Install a pedestal porcelain sink and the classic clawfoot tub, and you've got the perfect traditional style space.
French Country
This interior design style has soared in popularity over recent years. Words that come to mind regarding this style are "rustic" and "refined." French country design is all about warm, earthy colors (red, yellow, gold), extravagant lighting, and natural materials with ornamental finishes.
This style is related to a farmhouse design, but there are a couple of differences between the two. French country design tends to stay with natural colors and materials, while farmhouse style takes those things and makes them cleaner and fresher. For example, a French country kitchen would have natural wood cabinets, while a farmhouse kitchen would take those natural wood cabinets and paint them white.
To create a French country bathroom, install rustic wood cabinets with a double white sink vanity. Then, get a gilded mirror and sconces to match the brass shower and tap hardware! Additionally, rust-colored hexagonal tile flooring would elevate your bathroom to the next level.
Coastal
Want an island getaway? Why not design your bathroom to take you right to the beach, even in the middle of a dreadful Midwest winter? Coastal interior design embodies the feel of the beach: natural light, soft tones, and clean lines. It's like summer all year long in your bathroom! When considering a coastal bathroom style, think relaxed and airy.
To create the feel of a beach getaway right in your home, your color palette should be filled with light browns, blues, greens, or even pinks like an ocean view sunrise! Choose white tiles for your flooring but accent with gray or blue to bring out a calm, coastal vibe.
You can choose to keep all your walls white or paint an accent wall seafoam green or blue. Definitely choose a white tub, install a showerhead in a walk-in shower with glass doors, and add some greenery. Light brown woven accents, like a rug or light fixture, really bring the coastal room together.
Shabby Chic
If you've heard of this interior design style, you're probably wondering how in the world you can incorporate it into your bathroom. It's easier than you may think! A shabby chic design looks "lived-in" but manages to combine elegance and comfort. Most of the time, "shabby" simply refers to items in the style that are weathered or antique. This interior design choice is filled with soft colors and a mash-up of vintage and modern decor.
For your shabby chic bathroom, you can get a lace or ruffle shower curtain to start things off right. Choose colors that make a statement, just a quiet one. For instance, a rose floral scheme with a white bathtub and sink perfectly incorporates the feminine and clean elements of the shabby chic design. Distressed wooden cabinets add to the "shabby" part of the combination, and mounted ornate wired baskets can serve as storage for lotions and hand towels.
If choosing every element for your new build seems overwhelming, Epcon can help! Each of our personalized, zero-entry floor plans is constructed with high-quality materials that can bring any style preference to life in every room of the house! Homebuyers can choose to customize their floor plan to add features like a screened porch, bonus suite, or gourmet kitchen.
As an active adult community, Epcon provides many benefits, like low maintenance living, resort-style amenities like a pool and clubhouse, and the chance to meet new people at community-wide events! Subscribe to our blog today for more design tips or to learn more about building your dream home in one of our communities.