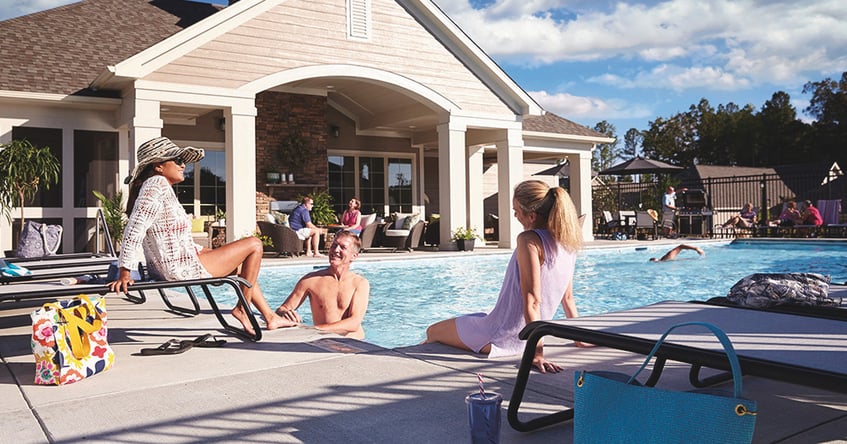 Summer is usually the time when people break out their party hats and invite their friends and family over for a backyard barbecue. However, due to recent social distancing guidelines, hosting a party this season just got a bit more complicated.
Here are some simple ways to host a summer party safely, while keeping everyone's health in mind.
Section off your home.
To help everyone stay healthy, invite close friends or family to your home in smaller groups. Ask them to stay in your backyard and only enter your home to use the restroom or grab some food from the kitchen. This will allow you to have fun and socialize while keeping your home free from germs your guests could bring with them.
If the weather turns while guests are at your home and you want to keep the party going, invite them in but ask them to take off their shoes and stay in only the common areas (kitchen, living room, etc.). Don't forget to clean and sanitize your entire home when guests leave.
Rent a tent or canopy.
Summer heat in Iowa can be brutal. If you are hosting people on a hot, humid day but want to keep your home closed off to anyone who isn't currently living there, consider renting a tent or purchasing a small canopy from a local store. This will give you and your guests a shady area to rest in or set up yard games.
You can also set up cold water stations in your backyard to keep everyone hydrated—even if they're just coolers full of ice and bottled water—and replenish them throughout the party. Save a corner of your yard for a sprinkler the grandkids can run through, as well.
Avoid finger foods.
While bite-sized appetizers are an easy way to keep your guests fed, they are probably best left for another day in the current climate. Instead, consider having a catered meal delivered to your home. Restaurants have always taken cleanliness seriously, and they have doubled down on their cleaning processes recently, making them a trustworthy source. If ordering out isn't in your party budget, ask your friends to eat a big meal before they come and offer prepackaged snacks throughout the day.
Similarly, instead of offering drinks in plastic cups and community pitchers, consider asking your guests to bring their own beverages, or have coolers full of bottled or canned drinks available. This will help prevent the spread of germs from drink handles or spigots.
Related Article: 3 Recipes to Try When You're Stuck Inside
Keep everything clean.
Regularly wipe down frequently touched surfaces, such as doorknobs, light switches, cooler handles, and tabletops. You can also put out hand sanitizer in your yard for people to use frequently throughout the party. When possible, remember to keep at least six feet of distance between the guests who don't live together.
Hosting a party this summer requires a bit more careful planning, but keeping everyone safe while in your home is possible. For more tips about making the most of your living space, subscribe to our blog!