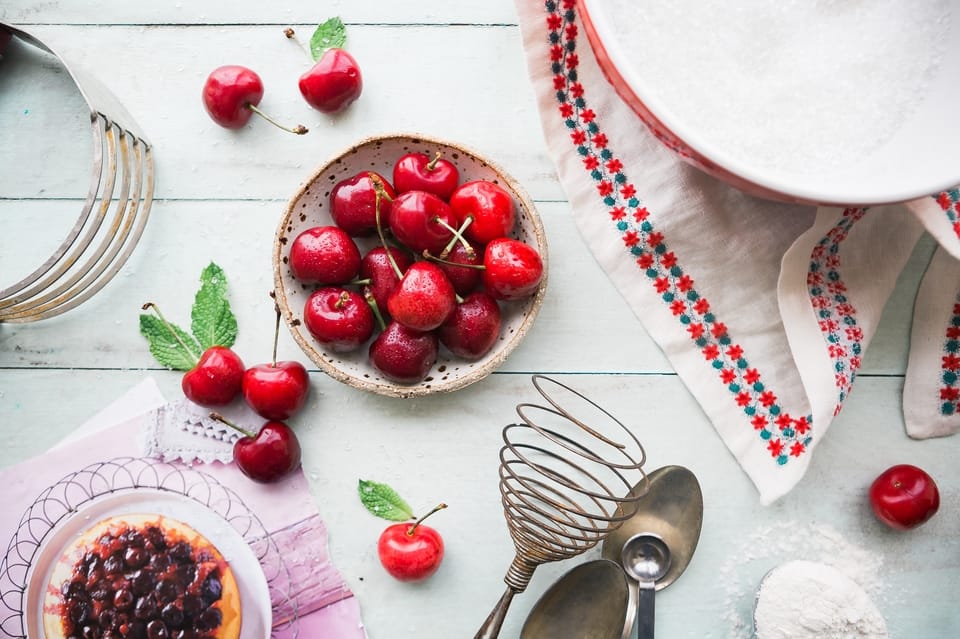 The recent COVID-19 outbreak has left many stuck inside their homes until the danger passes. This time in quarantine can get boring. Or, if you have school-aged children, perhaps you now need to find activities to amuse them between at-home schoolwork. Instead of spending your days sitting on the couch in front of your television, get in the kitchen and bake the things you've always wanted to try but never had the time to! Below are our favorite three recipes from Taste of Home that you and your family can enjoy.
Peach and Berry Cobbler
It's only April, but we can pretend it's summer when baking this recipe. You may have a lot of these ingredients in your cupboards, but you can also make this your own recipe by adding other fruits you already have on hand!
For the cobbler, you'll need:
Sugar, cornstarch, cinnamon, and cardamom
Peaches, blackberries, raspberries, and blueberries
Lemon juice
The topping will require:
Flour, sugar, and salt
Orange zest
Baking soda and baking powder
Cold butter
Buttermilk (don't have this? Just add a bit of vinegar to your milk and let sit for five minutes!)
Vanilla ice cream
Preheat your oven to 375 degrees and dump all the dry cobbler ingredients into a large bowl. Add the fruit and lemon juice, then toss to combine. Pour the fruit mixture into a 10-inch cast iron or ovenproof skillet.
In a smaller bowl, stir everything together but the butter, buttermilk, and ice cream. Then, cut in the cold butter until the mixture is crumbly and add the buttermilk. Stir this until just combined. Drop the topping mixture, a tablespoon at a time, over the fruit.
Bake uncovered for approximately 40 minutes and serve with ice cream on top! Find the full recipe here.


Rum Raisin Creme Brulee
This dessert seems intimidating, but it's actually quite easy and only requires five ingredients!
First, preheat your oven to 325 degrees and microwave raisins and rum in a small bowl. Let this sit for at least ten minutes. While you wait for that to cool, heat the cream in a saucepan until the sides are bubbly, then remove from heat.
In yet another bowl, whisk egg yolks and sugar until fully blended--but not foamy! Slowly stir in the hot cream, then strain in the raisin mixture (keep the raisins for later). If you have ramekins or custard cups, divide the raisins among them, then pour your egg mixture on top. If you don't have these individual containers, feel free to use a muffin pan instead.
Once everything is divided equally, add hot water to a separate pan and place it in the oven. Set the ramekins or muffin pan in the center of the hot water and bake for at least 30 minutes.
When they are done, remove the ramekins or muffin pan from the water bath and let them cool for ten minutes before refrigerating. When they are completely cooled, which can take up to four hours, sprinkle sugar on top and caramelize with a kitchen torch. Feel free to serve immediately or refrigerate for up to an hour.
Find the full recipe here.
Two-Berry Pavlova
Doesn't the word "pavlova" sound fancy? This can be a fun recipe to do with your children, since they can build their own pavlova with their favorite fruits!
You'll only need a few ingredients for the pavlovas themselves:
Egg whites
Lemon juice
Cream of tartar, sugar, and cornstarch.
Choose whatever fruit you or your family wants. This will eventually be mixed with sugar and heavy whipping cream.
First, put parchment paper down on a baking sheet and draw a 10-inch circle on the paper, then invert it. Preheat your oven to 300 degrees. Make the meringue base for the pavlova by placing the egg whites in a large bowl, then add the cream of tartar to the egg whites and beat until peaks start to form. Gradually add sugar one tablespoon at a time, beating on high after each tablespoon until the sugar is completely dissolved and stiff glossy peaks form. Fold in the cornstarch and lemon juice, but don't let all the air escape.
Next, transfer the meringue, with a spoon, to the pan and shape it into the 10-inch circle you drew, then form a shallow well in the center with the back of your spoon. Bake for at least 45 minutes, or until the meringue is dry. Turn off the oven (don't open the oven door!) and let it sit inside for one hour. When time is up, remove the meringue from the oven and let it cool completely on a separate baking sheet.
Toss the berries or fruit of choice with sugar in a small bowl. In a separate bowl, beat the heavy cream until it starts to thicken, then add more sugar to the cream until soft peaks form. Remove the meringue and place it on a serving plate, then put some whipped cream in the well you created earlier and top with berries!
Find the full recipe here.
Self-quarantining during this health crisis isn't fun for everyone, but it can be more enjoyable by having fun in the kitchen! For more home advice, subscribe to our blog.