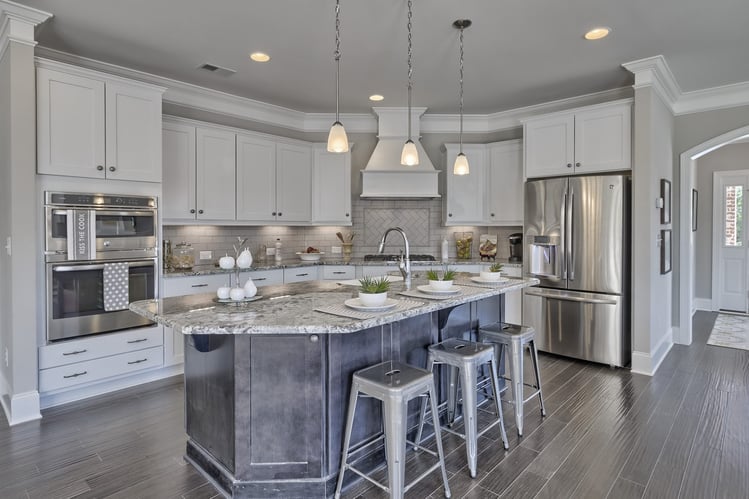 Your kitchen is overdue for an upgrade, but if you don't know what style you prefer, it can be hard to get started making improvements. There are several popular interior design styles out there, and deciding which is the right one for you can be overwhelming. Keep reading to learn about five common design styles and how you can use them to create a new kitchen that fits you and your home perfectly.
Modern
Creating a modern kitchen is all about clean lines and an overall minimalist look – without being too cold. A kitchen in the modern interior design style is simple yet beautiful, with heavy emphasis on functionality and storage. If this style had a mantra, it would definitely be "less is more.
For a bright and airy kitchen, consider building a wall of white kitchen cabinets that look almost seamless. The cabinets would blend into the wall, providing a modern look with the functionality of floor-to-ceiling storage. Add a touch of warmth with a wood accent wall or a wooden island with a white countertop.
If you prefer darker colors, choose a dark, rich color like espresso for your cabinets, and offset them with a lighter countertop or a warm wooden floor to keep the space inviting. Espresso also tends to warm up the space when you choose stainless steel appliances or metal fixtures. Want a more industrial vibe in your modern kitchen? Pair a lighter wood with stainless steel appliances and a dark tiled floor.
Traditional
The traditional interior design style screams "warm" and "classic." In this style, soft color palettes and natural materials fill the space. This style is a mix-and-matcher's dream, as you have the freedom to play with colors and textures.
For a cozy traditional kitchen, bring in any materials that give the space a handcrafted look. To do this, incorporate marble, brick, or stone into your backsplash. If possible, get a few period furniture pieces that you love, and add crown molding and trim that complement them.
Create a breakfast nook or a bay window, and look for furnishings with carved legs and columns. Areas like these say, "Come in and stay a while!" which is the exact homey vibe you're going for in a traditional kitchen. For finishing touches, use different fabrics to bring natural color into the space.
French Country
For a light and airy, slightly rustic kitchen, go for the French Country interior design style. Don't confuse farmhouse-style with French Country, though; while these are similar, French Country is more elegant without being formal, with a lived-in feel.
Nature plays a big role in this design style, much like its traditional counterpart. In your French Country kitchen, consider wooden features and incorporate stone elements, whether in the floor or countertops.
The color palette of this type of kitchen is very warm. You can choose white or cream as a base color, but try to use shades of blue, green, or yellow to keep the space bright and inviting. For example, you could paint your kitchen a distressed light blue with white countertops and white wooden cabinets.
Coastal
Do you want your kitchen to reflect your own carefree spirit? The coastal interior design style could be perfect for you. This style lets you have a lot of fun while keeping your kitchen sophisticated, clean, and fresh.
This style works best with an open floor plan to maximize natural light. However, if your kitchen is slightly closed off, you can still create that airy feeling with white or cream countertops, backsplash, and light fixtures.
Choose soft neutral colors you'd find in nature and on the beach—colors that remind you of water and sand. These can include deep indigo, navy, white, or pastels like light blue or yellow. Then, pile on the natural elements! Gently distressed, light wood would be perfect for the flooring or cabinets, while wicker is perfect for furnishings or other decorations.
Shabby Chic
It's all in the name: the shabby chic style creates a very warm and inviting vibe while highlighting imperfections. Shabby chic traditionally includes plenty of frills, lace, and ruffles, but these elements can be toned down to fit your personal preference.
Blend wood, rusted metal, and antique furniture with fresh flowers, lots of color, and patterned curtains for the perfect shabby chic kitchen. For example, you can choose a neutral cabinet color, like white, then go wild with colored accents and decorations. Choose ruffled curtains or seat covers, then find fun vintage decorations or put your fresh flowers in a worn metal vase.
As a sort of central focus, get a big white kitchen table that's been distressed to look lived-in, then paint the top a fun color that matches the other accents in the room.
Starting from Scratch?
If you've decided your current kitchen space just doesn't work for you anymore, consider building your dream home! Epcon communities allow you to personalize your floor plan so you can bring any style to life. Each of our homes is zero-entry, making an Epcon community an ideal location for a forever home.
As an active adult community, Epcon can provide even more benefits like low-maintenance living and the chance to meet new people at community-wide social events. Subscribe to our blog today to get ideas for designing your perfect home in one of our communities.