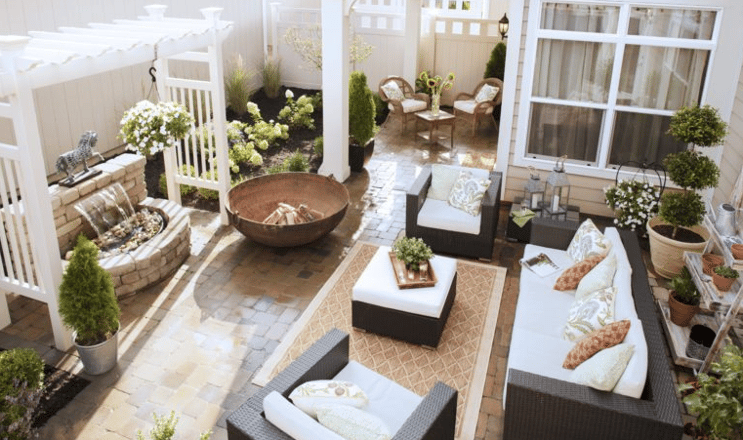 If you're in the process of building your dream home, your thoughts are most likely preoccupied with the interior design of the house. However, there is a major chunk of your home you may be forgetting about—the outside!
The outside of your home can be just as important as the inside. Creating an outdoor living area allows you to maximize your usable space. The possibilities are endless! Your favorite hobbies and family activities can determine what this space becomes: a haven for gaming, grilling, relaxing, or entertaining.
Outdoor Game Area
If you, your friends, or your family love to play games together, an outdoor game space could be the perfect addition to your new home. You can buy giant sized versions of your favorite board games, like Jenga, checkers or chess, or Connect 4, and stash them in your attached garage or an exterior shed for when people come to visit or for your family on a beautiful summer evening. Also, if your grandkids are over at your house all the time, it could be worth investing in a play structure complete with slides, swings, ladders, bridges, and even a rock wall.
If you love to golf, consider a foldout putting green. You can also create a backyard bocce ball court or even a small soccer field or basketball court for the sports lovers in your family on your patio or driveway. The patio could be the perfect place to set up your table tennis as well.
Outdoor Kitchen
Do you love to cook? There's no need to be stuck inside the house while your family or guests are having fun outside! The kitchen tends to be the center of the party whether the cook likes it or not. Create that space outdoors by creating an outdoor cooking area. Designing an outdoor kitchen gives you the opportunity to socialize with your visitors while they enjoy the outdoors.
An outdoor kitchen can consist of a simple grill, but you could also choose high-end appliances like a pizza oven, griddle, smoker, fire pit, and more. Consider installing a wet bar, too, so you don't have to go back inside for a drink. Add a table and chairs under a pergola, and you've got a cooking and dining area you'll never want to leave! You can use landscaping, furniture, or barrier walls to separate the kitchen from the rest of the backyard.
Outdoor Living Room
Sometimes, you just want to enjoy a beautiful night but still be cozy while watching your favorite show. An outdoor living room is also the perfect spot to relax or even to host a party, especially when since spilled drinks will land on your patio or grass instead of your carpet or indoor furniture.
Consider creating a focal point just like you would inside: a fireplace or built-in firepit are a few options. Then, you can use hedges or even just the outside walls of your house to help provide some privacy and separate the space from the rest of the yard. You can purchase cozy outdoor couches and chairs with cushions and pillows that are durable but comfortable—perfect for curling up with your favorite book. Throwdown a rug to pull the space together and string outdoor lights to create a nice, relaxing ambiance. You can also get outdoor heat sources to keep the space usable for a longer portion of the year.
At Epcon, every one of our personalizable floor plans has a private courtyard that you can make into your personal oasis. As an active adult community resident, you won't have to worry about maintenance tasks like mowing the lawn and shoveling snow. And, while you can always invite your neighbors over to your outdoor game room, you can also find fun activities and events happening in the community.
Subscribe to our blog for more home design tips and tricks or to learn more about building your forever home in one of our active adult communities.