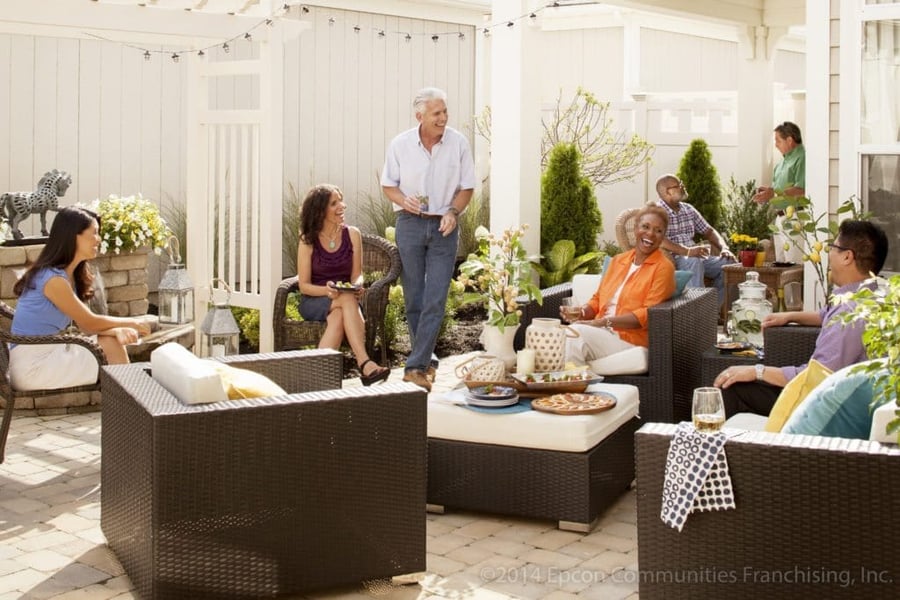 Active adult communities provide some distinct advantages over remaining in the family home after the kids have moved away. When researching your options for your next home, it's important to separate myth from fact. Here are five common myths about active adult communities.
1. The residents are all retired.
One of the most common misconceptions about active adult communities is that you have to be retired to live in one. While they are age-targeted, many residents continue to work after they move in. Active adult communities are not "retirement" communities. They are designed for people who wish to pursue an independent, active lifestyle among people who are at similar stages of life.
People move into these types of communities for a variety of reasons. Some are retired, and others are new empty nesters who have found that the perfect family-friendly neighborhood close to the best schools is no longer ideal for them. Some want a home that requires less maintenance so they can have more time to do the things they love, and still others move looking for new friends and fresh starts after the passing of a spouse. What they have in common is that they want to live among people around the same age and enjoy the amenities and opportunities that active adult communities provide.
2. There's nothing to do.
Active adult communities offer a wide range of amenities to entertain, encourage social connections, and help residents relax and enjoy this stage of life. For example, most offer clubhouse facilities where people can relax by the pool, exercise in the fitness center, or host family get-togethers. Community-wide events keep residents connected to one another, but don't worry—nothing is mandatory. Active adult communities recognize that this is the time of life to do what you want.
3. Renting or downsizing are your only options.
Moving into an active adult community doesn't necessarily mean you can't own your home or that have to pare down your prized possessions. Active adult communities like Iowa's Epcon neighborhoods offer several different floorplans at a range of price points so residents can choose one that fits their budget and preferences. Buyers can even personalize the floorplan of their choice to create the home of their dreams.
4. You lose your independence.
Contrary to this popular notion, living in an active adult community can help you maintain and further develop your independence. Unlike in an assisted living facility, daily upkeep and inside maintenance of your home remains your responsibility; so, unless you hire a maid, you'll continue cleaning and doing laundry just like you always have. There are also no on-site dining facilities or healthcare services; you can cook in your dream kitchen, go out, or order takeout as you wish, and you'll continue to see your favorite doctor.
The community can help you increase your independence by providing more opportunities to make connections and more time to do what you like. You can spend your time going out with friends, visiting your kids or grandchildren, attending a book club, or doing what you want to do whenever you want to do it. An active adult community takes care of your lawn and removes snow, giving you the freedom to live as you like.
5. Every community is the same.
Because active adult communities provide many floorplan and personalization options, they tend to contain a wide variety of homes. Communities differ from one another based on location, amenities, and the culture created by the people who live there. To decide whether an active adult community is the right place for your next home, visit communities in your area to get a sense of the different neighborhoods that are available and the people who call them home.
Active adult communities are home to a diverse population, whether residents are working, retired, new empty nesters, or simply starting a new chapter in life. For more information, contact an Epcon community near you or subscribe to our blog!