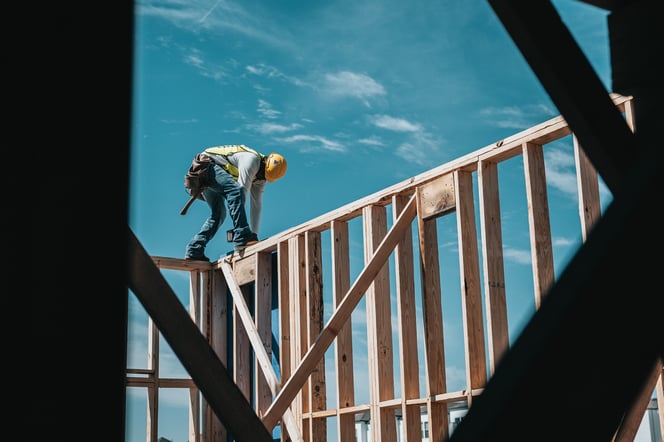 When you decide to build a new home, choosing a builder is just as important as choosing the layout. It's important to know your homebuilder is reputable and trustworthy.
Research
The best way to find the right home builder is to begin with some basic research. Online reviews are a great place to start, but it's also a good idea to ask around in your community. This will help you get a sense of how well known the builder is and their local reputation.
Because lenders, real estate agents, material suppliers, and inspectors all work directly with builders, they can be great sources of information. Also ask friends, family members, and acquaintances who have experience with local builders about their recommendations. Pay attention to trends in how people respond and the builders they recommend. From this preliminary work, build a list of reputable builders to meet with, ask questions, and dig deeper into their process.
View Homes
If the builder you're considering has an online portfolio, this can be a convenient place to get a look at samples of their work. When you tour homes in person, look closely at the quality of construction. Take note of flaws like cracks in the sheetrock around windows and doors, which could indicate foundation issues, as well as molding that seems to be separating from walls or signs that walls have been patched, which can be a sign of plumbing problems behind the walls. As you walk through, turn the faucets and lights on and off, and open and close drawers, cabinets, and doors to make sure everything works properly and fits well.
Identify Your Needs and Budget
It's important to begin with a clear idea of what you want and need in a home. Some builders specialize in particular styles or types of homes, and some may be out of your price range. Having a vision of your new home and a clear sense of your budget will help narrow your list. Knowing the location and community that you would want to live in will also help you zero in on the right builder.
Ask the Builder Questions
One of the best ways to get the answers you need is to simply ask questions. After you have done the research and clarified what you want in a new home, it's time to see which builders on your list are best suited to meet your needs. Examples of questions you may want to ask include
Do you have references from recent buyers or occupants?

What floor plan options are available? Can they be personalized?
Do you offer a

warranty program

?

Are you fully licensed and insured?
This list is only a starting point. Be sure to ask all the questions on your mind before selecting a builder. The more you know at the beginning of the process, the fewer surprises you'll encounter along the way.
Epcon active adult communities are designed with the good life in mind. Epcon homes offer low-maintenance living and desirable amenities in thriving Iowa communities. A range of personalizable floor plans are available to suit a variety of needs. Subscribe to our blog for more tips on building and designing your dream home!