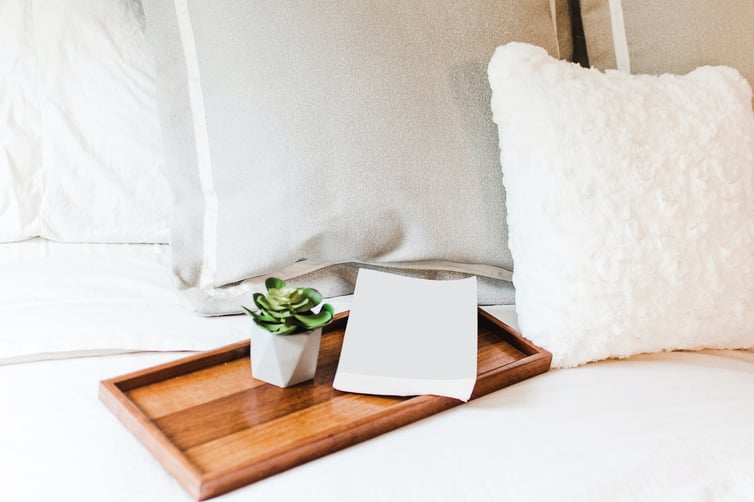 When designing your dream home, it's natural to want your personal sense of style to shine throughout. You won't be the only one enjoying your home, however, especially if you love to entertain family and friends.
While private spaces like your bedroom should be brimming with your personality, your guest suite should be comfortable and welcoming for any potential guest. That doesn't mean it can't also reflect your personal sense of style, though! Here are some ways you can design the perfect place for friends and family to relax when they come to visit—using your favorite design style.
Modern
If you love crisp lines, neutral colors, and an overall minimalistic look, the modern interior design style is probably the best fit for your home and your guest suite. Simplicity is key here; less is more.
There are several ways you can incorporate the modern look throughout your home into your guest space. Since this style emphasizes functionality, make the guest bed the focus of the room. Choose your favorite neutral color (black, gray, white, tan, etc.) when selecting bedding, but feel free to add pops of a relaxing accent color like blue or green in the blanket or throw pillows. Then, find other furniture in natural materials and decor in geometric patterns or shapes. For example, you can find a natural wooden headboard that has built in bedside tables, then place spherical lamps on them, or consider mounting the lamps to the headboard or wall to create more functional space for your guests.
Traditional
The traditional interior design style embodies timeless elegance. A guest suite in this style transports your guests to another period where they feel comfortable but luxurious (and maybe even like royalty).
When you think of the traditional design style, think crown molding, winged-back chairs, and heavy curtains. This is your opportunity to go antiquing for pieces that epitomize the 18th or 19th century! Solid colors are typically used in this style, but you can incorporate gentle patterns. For example, if you keep the bedding a neutral beige or gray in a lush fabric like cashmere, silk, or even velvet, you can use patterned wallpaper on one wall or throughout the space to add interest. And, if you want to use wooden furniture or flooring, make sure it's dark and rich in color, like cherry or mahogany. Then, put together a small sitting area for your guests to relax and drink coffee in the morning or read a book at night. This is a must in the traditional style.
French Country
Like its traditional counterpart, the French country design style can be extremely ornate and elegant, but it's much more relaxed. Whitewashed wood and other distressed elements combined with subdued neutral colors help this style remain relaxed and cozy—perfect for a guest space.
The key to the French country guest suite is to balance the rustic and elegant aesthetics. Add beautiful French doors as an entry, and incorporate ornate gilding and molding. Then, choose distressed wood features—a whitewashed dresser, natural wooden floors, etc. This gives the space a polished but lived-in look. Warm up the space with colors like yellow, green, red, or blue, but keep them light and comforting. They can be used in the bedding, gingham curtains, or even the vintage clock on the bedside table.
Coastal
One of the fun things about the coastal interior design style is that there are so many ways to showcase it throughout your guest room. Transport your friends and family to the beach to help them unwind and relax throughout their stay!
This style lives and breathes natural textures and light. Choose light colors in a spectrum of whites, blues, pinks, greens, or even yellows to incorporate through the space: the bedding, the rug, wall art, etc. Linen, rope, and other woven textures are perfect for this type of design, so you can choose a woven basket for guests to put their dirty clothes in or light linen curtains for the window. For the bed, if you used a lot of color in the bedding or pillows, choose a natural wooden headboard to bring it together. Whatever you do, make sure the guest suite is as comfortable an oasis as you can make it!
Shabby Chic
The shabby chic style is rustic but put together. This style can be as simple or as eclectic as you want it to be! While it tends toward ruffles and frills, you can tone down this aspect of the decor to fit any guest who will be staying with you.
Incorporate the shabby chic interior design style into your guest space by choosing ruffled curtains and bedspread. Then, go for bright colors like turquoise for the bedding, but balance out that color with white curtains. Get a vintage bedroom furniture set in distressed wood or white, but make sure they are sturdy. While "shabby" is in the name, we want to be sure your guests aren't using dressers that could fall apart at any moment! Get a glass vase full of fresh flowers to set on the bedside table to keep the room soft and inviting, then go wild with fun framed artwork on the walls to add character to the space.
If you want to create the perfect guest suite, consider moving into an Epcon active adult community! Homebuyers can choose their own zero-entry floor plan to personalize according to their style and preferences. Subscribe to our blog for more tips on designing your dream home.